The National Transport Commission (NTC) today announced the revised bus fares following the decision to increase fares in line with the recent fuel price hike. MORE..


19 Sep 2018 (6:51 PM)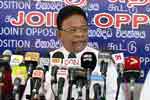 There is no other era in the Sri Lankan history, in which Sri Lankan Rupee consecutively depreciated three times just within a week and three years, claims the Joint Opposition. MORE..


19 Sep 2018 (7:06 PM)



Inspector General of Police (IGP) Pujith Jayasundara has been requested by President Maithripala Sirisena to hand over his resignation letter within two weeks, according to political sources.


20 Sep 2018 (11:03 AM)