The Ministry of Finance and Media states that price hike of sugar will not be permitted as the international price of sugar has been drastically reduced due to excess sugar in the world market. MORE..


19 Sep 2018 (9:10 PM)



The AIADMK on Wednesday decided to take on its principal rival DMK, which had been targeting the ruling party with allegations of corruption, by reviving the issue of the DMK s "complicity" in the alleged massacre of Tamils during the final phase of the Eelam War in Sri Lanka in May 2009. MORE..


20 Sep 2018 (10:46 AM)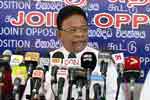 There is no other era in the Sri Lankan history, in which Sri Lankan Rupee consecutively depreciated three times just within a week and three years, claims the Joint Opposition. MORE..


19 Sep 2018 (7:06 PM)