Sri Lanka has decided against giving control of Palaly Airport to India just days after the state-run Airport Authority of India made a move to develop it. MORE..


20 Sep 2018 (12:35 AM)



The AIADMK on Wednesday decided to take on its principal rival DMK, which had been targeting the ruling party with allegations of corruption, by reviving the issue of the DMK s "complicity" in the alleged massacre of Tamils during the final phase of the Eelam War in Sri Lanka in May 2009. MORE..


20 Sep 2018 (10:46 AM)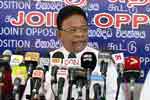 There is no other era in the Sri Lankan history, in which Sri Lankan Rupee consecutively depreciated three times just within a week and three years, claims the Joint Opposition. MORE..


19 Sep 2018 (7:06 PM)