The Ministry of Finance and Media states that price hike of sugar will not be permitted as the international price of sugar has been drastically reduced due to excess sugar in the world market. MORE..


19 Sep 2018 (9:10 PM)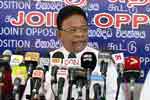 There is no other era in the Sri Lankan history, in which Sri Lankan Rupee consecutively depreciated three times just within a week and three years, claims the Joint Opposition. MORE..


19 Sep 2018 (7:06 PM)



Sri Lanka has decided against giving control of Palaly Airport to India just days after the state-run Airport Authority of India made a move to develop it. MORE..


20 Sep 2018 (12:35 AM)