The AIADMK on Wednesday decided to take on its principal rival DMK, which had been targeting the ruling party with allegations of corruption, by reviving the issue of the DMK s "complicity" in the alleged massacre of Tamils during the final phase of the Eelam War in Sri Lanka in May 2009. MORE..


20 Sep 2018 (10:46 AM)



Fairly strong gusty winds up to 50 kmph can be expected in Central, North-western, North-central and Southern provinces and in Badulla and Trincomalee districts, stated Meteorological Department. MORE..


20 Sep 2018 (10:33 AM)



The ceremony to vest the Gomarankadawala Bakmeegama tank which is renovated under the Sirisara Pivisuma project with the public and the opening of the 30 km long Elephant Fence which is constructed as a pilot project in Gomarankadawala area to provide a solution for the age old human elephant conflict, will be held... MORE..


20 Sep 2018 (9:46 AM)



Sri Lanka has decided against giving control of Palaly Airport to India just days after the state-run Airport Authority of India made a move to develop it. MORE..


20 Sep 2018 (12:35 AM)



The Cabinet has approved the proposal to declare the Tripitaka , the text which includes all teachings of Buddha, as a national heritage in Sri Lanka. MORE..


19 Sep 2018 (10:32 PM)



The Monetary Board of the Central Bank of Sri Lanka has imposed a 100 per cent margin deposit requirement against Letters of Credit (LCs) opened with the commercial banks for the import of motor vehicles, which are generally used for non-commercial purposes, with immediate effect. MORE..


19 Sep 2018 (9:57 PM)



The Ministry of Finance and Media states that price hike of sugar will not be permitted as the international price of sugar has been drastically reduced due to excess sugar in the world market. MORE..


19 Sep 2018 (9:10 PM)



Following a discussion held with Minister of Industry and Commerce Rishad Bathiudeen, Bakery Owners Association said that they will be able to bring down the price of a loaf of bread by Rs 5 within several days. MORE..


19 Sep 2018 (8:01 PM)



The overseas travel ban imposed on former Minister Rohitha Abeygunawardena, who is charged over the alleged illegal acquisition of assets, has been temporarily lifted by the Colombo High Court. MORE..


19 Sep 2018 (7:20 PM)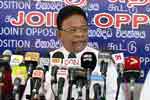 There is no other era in the Sri Lankan history, in which Sri Lankan Rupee consecutively depreciated three times just within a week and three years, claims the Joint Opposition. MORE..


19 Sep 2018 (7:06 PM)



The current Inspector General of Police (IGP) is behaving in a manner that disrepute the whole of Sri Lankan Police history, says JVP leader Anura Kumara Dissanayake. MORE..


19 Sep 2018 (7:01 PM)



The National Transport Commission (NTC) today announced the revised bus fares following the decision to increase fares in line with the recent fuel price hike. MORE..


19 Sep 2018 (6:51 PM)



The decision to revive the Embilipitiya Paper Mill, which had discontinued its production, has received Cabinet approval. MORE..


19 Sep 2018 (6:36 PM)



The Islamabad High Court (IHC) on Wednesday ordered the release from jail of former prime minister Nawaz Sharif, his daughter Maryam Nawaz and son-in-law Capt Safdar, suspending the sentences they received from an accountability court in July. MORE..


19 Sep 2018 (6:02 PM)



Chief Prelates of Malwathu and Asgiri Chapters have given a letter to President Maithripala Sirisena to bring his attention to actions of both clergy and laymen against the Buddha Sasana. MORE..


19 Sep 2018 (5:09 PM)



The wholesale price of sugar will be increased by Rs 15 per kilogram with immediate effect, according to the Sugar Importers Association.


19 Sep 2018 (5:03 PM)



Professor Channa Jayasumana says that the mythical history created by racists in Sri Lanka has led to violation of human right in all Sri Lankans. MORE..


19 Sep 2018 (4:31 PM)



The Sri Lankan Rupee has further depreciated against the US Dollar as the selling price hikes up to Rs 167.14 per US Dollar. MORE..


19 Sep 2018 (3:07 PM)



The Ministry of Law and Order has recommended to the National Police Commission to place DIG Nalaka de Silva on compulsory leave with immediate effect, to facilitate the ongoing investigations into allegations against him. MORE..


19 Sep 2018 (3:06 PM)



Action could be taken regarding the Inspector General of Police (IGP) Pujith Jayasundara s behavior, says Cabinet Spokesperson Minister Rajitha Senaratne. MORE..


19 Sep 2018 (3:01 PM)